Untranslate consists of a young and driven team that is always ready for its customers. Our mission is to achieve efficient multilingual communication with our own knowledge, experience and the latest technologies. The combination of different languages and areas of expertise is a major asset. We, Untranslators, all have a "linguistic background" and a passion for language (technology), but each with its own accent. We form a close-knit team that supports each other in word and deed.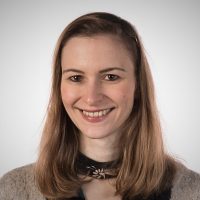 Lisa De Pauw
Project Manager/Language Technology Consultant
In secondary school, it soon became clear that Lisa De Pauw had a flair for languages. Passionate about German and Spanish grammar, she chose the Applied Linguistics programme at the age of eighteen, and successfully completed a Master's degree in Translation to top it off. Afterwards, she followed a postgraduate degree that took her deeper into translation technology, which led to her starting work as a language technologist. After her first work experience, Lisa was employed by Untranslate at the beginning of 2017.
She currently leads the most diverse projects (translation, copywriting, subtitling, voice-overs, etc.), while always striving to achieve an efficient approach. She ensures communication between linguists and customers is optimal, while everyone enjoys her infectious enthusiasm and attention to detail.
In her spare time, Lisa enjoys an exciting movie, comedy theatre, or a long walk. Furthermore, she finds a good game of squash or tennis very relaxing.
Marlies Hendrickx
Project Manager/Language Technology Consultant
The Untranslate team was reinforced by Marlies Hendrickx in 2018. Language has always been her thing, which is why she decided to immerse herself in three national languages – Dutch, French & German. While successfully studying for a degree in Applied Linguistics, and subsequently for a Masters in Translation, she was completely bitten by the translation technology bug. A Postgraduate Programme in Specialised Translation proved to be a perfect match, and the internship associated with the programme brought her to Untranslate.
Here she is mainly occupied with (medical) terminology, quality control and project management for our clients in the ICT, medical and legal sectors. Her curiosity and precision come in handy. Furthermore, copywriting projects also fall under her expertise. An ideal opportunity to let loose her creativity.
In her spare time, Marlies enjoys being adventurous and pulling on her walking shoes. To let off steam, she enjoys playing the saxophone.
Nathalie De Sutter
Managing Partner
Nathalie De Sutter can look back on nearly 20 years of experience in the language sector. After successfully studying for a Master's degree in Oriental Languages and Cultures at Ghent University, and topping that off with postgraduate studies in Multilingual Business Communication at the University of Antwerp, she became acquainted with Artificial Intelligence and Natural Language Processing (NLP) for the first time. At Lernout & Hauspie Speech Products (LHSP), she worked on the development of a Text-To-Speech system for Hindi and Urdu. Before she decided to set up her own partner company within the Cronos Group in 2015, she was employed in various roles as a key account manager and consultant, while at the same time she completed various studies, also at the Vlerick Business School.
All this expertise comes in handy at Untranslate. This is because the company not only provides professional translation services, but also advice about language technology (NLP, terminology management, semantic search, machine translation and process automation). She also acts as a guest lecturer at KU Leuven, Vrije Universiteit Brussel (VUB), UGent and Université libre de Bruxelles (ULB).
In her spare time, Nathalie likes to travel, but she also enjoys spending time in the squash court and on the piste.
Antoine Vanrysselberghe
Intern
Languages have always been at the center of Antoine Vanrysselberghe's life. As a French native, he has always evolved in a Dutch school environment and quickly understood that, if he wanted to understand game walkthroughs, he had better understand English fast. With a solid basis in these three languages, he decided to study Applied Linguistics in English, French and Dutch at Ghent University and obtained a Master's degree in Multilingual Communication. To further develop his technological baggage and digital skills, he is now following a postgraduate in Computer-Assisted Language Mediation.
As of now, he has received the chance to put his skills into practice at Untranslate as an intern. Here, he hopes to acquire as much professional working experience as he can, especially on the technological aspects.
In his spare time, Antoine enjoys playing video games with his friends. On Saturdays, you will most likely encounter him on official airsoft fields in Antwerp or in the Ardennes.