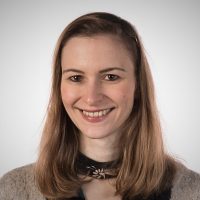 Lisa De Pauw
Project Manager/Language Technology Consultant
In secondary school, it soon became clear that Lisa De Pauw had a flair for languages. Passionate about German and Spanish grammar, she chose the Applied Linguistics programme at the age of eighteen, and successfully completed a Master's degree in Translation to top it off. Afterwards, she followed a postgraduate degree that took her deeper into translation technology, which led to her starting work as a language technologist. After her first work experience, Lisa was employed by Untranslate at the beginning of 2017.
She currently leads the most diverse projects (translation, copywriting, subtitling, voice-overs, etc.), while always striving to achieve an efficient approach. She ensures communication between linguists and customers is optimal, while everyone enjoys her infectious enthusiasm and attention to detail.
In her spare time, Lisa enjoys an exciting movie, comedy theatre, or a long walk. Furthermore, she finds a good game of squash or tennis very relaxing.
Marlies Hendrickx
Project Manager/Language Technology Consultant
The Untranslate team was reinforced by Marlies Hendrickx in 2018. Language has always been her thing, which is why she decided to immerse herself in three national languages – Dutch, French & German. While successfully studying for a degree in Applied Linguistics, and subsequently for a Masters in Translation, she was completely bitten by the translation technology bug. A Postgraduate Programme in Specialised Translation proved to be a perfect match, and the internship associated with the programme brought her to Untranslate.
Here she is mainly occupied with (medical) terminology, quality control and project management for our clients in the ICT, medical and legal sectors. Her curiosity and precision come in handy. Furthermore, copywriting projects also fall under her expertise. An ideal opportunity to let loose her creativity.
In her spare time, Marlies enjoys being adventurous and putting on her hiking boots. To let off steam, she enjoys playing the saxophone.
Elise Haja
Translator/Project manager
As far as she can remember, literature, languages and words have always been a passion for Elise Haja. Her bilingual environment – French and Dutch – was undoubtedly of great influence. When she realised translation combined those three areas of expertise, she chose to make it her university major. She challenged herself to learn new languages in addition to French, Dutch and English she already mastered, and started a curriculum in German and Russian at the École de Traduction et Interprétation ISTI – Cooremans in Brussels.
After obtaining a Master's degree in Literary Translation, she decided to carry out a PhD research in Translation Studies applied to Russian Literature at the Université libre de Bruxelles. At the end of first professional experiences in Paris and London, she returned to the motherland and joined the Untranslate team in early 2020. She holds the position of French translator, and takes care of translating and revising a range of various types of texts.
In her free time, Elise likes to read, train her Thaï boxing, travel and broaden her knowledge about healthy lifestyle and nutrition."
Els Van Humbeeck
Operations Manager
Els Van Humbeeck has more than 20 years of experience in various management positions in the media, security and HR sectors.
After obtaining a master's degree in History and a pedagogical diploma, she chose to undertake a Management course and to study for an MBA at the Solvay Business School. A long journey travelling through Central and South America sparked her interest in language and culture. She later learned the tricks of the HR profession while working at Hudson. And she gained additional policy experience as a member of the management team at DPG Media.
Els currently supports the Untranslate team as an HR coach and Operations Manager, and is developing a personnel policy there. For her it is crystal clear: the basis of success is putting the right person in the right place and ensuring the team is motivated. This mantra has helped her manage teams, empower people, and allow them to grow and develop throughout their career. In addition, she assists in the coordination of large and more complex projects.
In her spare time, Els likes to travel. And when she's not travelling, she loves to cook, preferably with products she has grown as part of her other passion: gardening.
Nathalie De Sutter
Managing Partner
Nathalie De Sutter can look back on more than 20 years of experience in the language sector. After obtaining a Master's degree in Oriental Languages and Cultures at Ghent University, and topping that off with postgraduate studies in Multilingual Business Communication at the University of Antwerp, she became acquainted with Artificial Intelligence and Natural Language Processing (NLP) for the first time. At Lernout & Hauspie Speech Products (LHSP), she worked on the development of a Text-To-Speech system for Hindi and Urdu. Before she decided to set up her own company within the Cronos Group in 2015, she was employed in various roles as a key account manager and consultant, while at the same time she completed various studies, also at the Vlerick Business School.
All this expertise comes in handy at Untranslate. This is because the company not only provides professional translation services, but also advice about language technology (NLP, terminology management, semantic search, machine translation and process automation). She also acts as a guest lecturer at KU Leuven, Vrije Universiteit Brussel (VUB), UGent and Université libre de Bruxelles (ULB).
In her spare time, Nathalie likes to travel, but she also enjoys spending time in the squash court and on the piste.
Hatice Merve Kiraç
Intern
Hatice Merve's connection to language was evident early on. After secondary school, her love of literature and foreign languages led her to the Department of American Culture and Literature at Hacettepe University in Turkey. She started translating in the English-Turkish language pair, and then worked in various sectors: textiles, banking, auditing, etc. There, in addition to translating and interpreting for expat managers, she also took on other responsibilities. The language tasks gradually faded into the background.
To refocus on translation and interpreting, she came to Belgium to study the Postgraduate Programme in Specialised Translation at KU Leuven. As part of this training, Hatice Merve joins the Untranslate team as an intern for three months.
In the spare time that remains, she learns Dutch and writes. Hoping to publish her writings one day, she translates them into English.